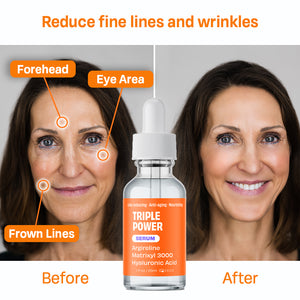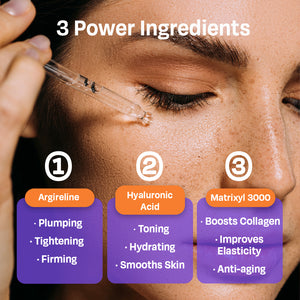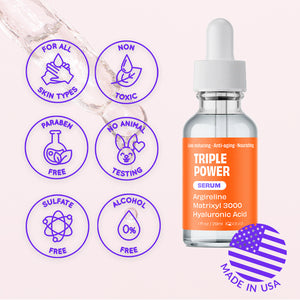 If you thought that you needed expensive filler injections to erase fine lines and prevent wrinkles, we are pleased to tell you that you were wrong. Argireline Fine Line Serum tightens the skin by naturally stimulating collagen growth, hydrating the epidermis and relaxing the memory muscles that cause wrinkles.
With its power team of ingredients you will feel and see your skin smooth and glow from day one. Hyaluronic Acid makes up the base of this serum. An ingredient naturally found in your skin to keep your cells hydrated. But as we age our body produces less of the miracle agent and we start to show the signs of aging. Matrixyl 3000 is a potent peptide that stimulates collagen synthesis and skin repair, making it a powerful long-term aging treatment. Argireline is another complex peptide which are made up of chains of amino acids, cause the facial muscles to contract with less force. Plump fine lines, relax deeper facial wrinkles, and induce collagen growth with Argireline Line Serum.

1oz/30ml
Ingredients: Aloe juice, acetyl hexapeptide-3 (argireline), palmitoyl oligopeptide, palmitoyl tetrapeptide-7 (matrixyl 3000), carbomer, sodium hyaluronate (hyaluronic acid), glycerin, butylene glycol, polysorbate 20, triethanolamine, benzylalcohol, dehydroacetic acid, and phenoxyethanol.