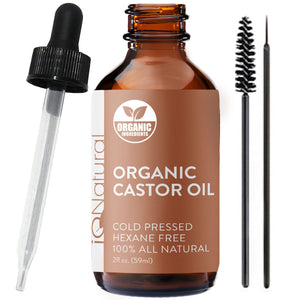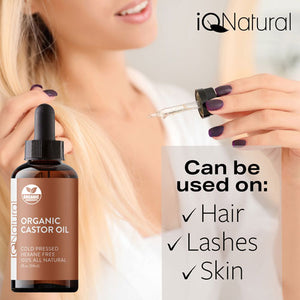 Castor Oil is nature's very own natural growth serum treatment. Castor oil is made from the highest-grade 100% unrefined virgin organic cold-pressed castor oil. For ages castor oil had been used as a popular remedy to fix thinning and stunted hair growth. The abundance of fatty acid content makes them a perfect all-natural choice capable of triggering hair growth. It will leave your hair shiny and leave your skin glowing with a youthful radiant shine. Let castor oil repair and bring rapid growth by feeding your hair the food it desires, letting time-tested results speak for themselves.


USE CASTOR OIL FOR EYELASH & EYE BROW GROWTH: Application tools included to make applying the product easy. Nightly apply the oil to clean hair ensuring eyebrows and lashes are free of makeup. Using the dropper, dispense one or two drops of castor oil onto the included mascara applicator. Starting with the eyebrows, lightly brush the wand in both directions ensuring the hairs are fully coated. Apply to eyelashes with the remaining oil on the brush. Work from root to tip applying in thin light coats. Optionally use the eyeliner brush to lightly oil the root base of both upper and lower lashes. Cleanup any excess oil with a cotton swab if oil starts to bead. In the morning wash with a mild facial cleanser.
Certified Organic
Ingredients:  100% one ingredient.
Virgin, cold pressed, hexane-free. Contains no fillers, dyes, parabens, or harmful fragrances.